FRU has entered one runner in to this year's London Marathon. We hope that she will have your support as she takes on this exciting challenge. She will be raising much needed funding for FRU so please help encourange and support her.
Information about Ginny and her Virgin Money page is below:
Ginevra Bicciolo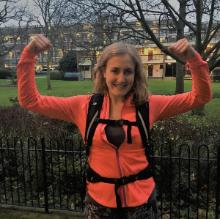 I am grateful for the opportunity to run my first ever Marathon to raise money for the Bar Pro Bono Unit (BPBU) and the Free Representation Unit (FRU). At a time when Legal Aid is no longer available for many who have lost their homes or crucial welfare benefits, for those who have lost their jobs or contact with their children, or for those who are victims of abuse, these two wonderful charities each year process thousands of applications from those in need of legal assistance and help find barristers or, in the case of FRU, also law students and young legal professionals, who are prepared to assist for free. Both charities are independent and reliant upon donations to meet all their running costs.
As a recent law graduate and aspiring solicitor, keen to use my skills to give back, the work of BPBU and FRU is very close to my heart. I started volunteering for BPBU during my final year of law school and since then went back to help whenever my working life allowed me to. Through BPBU I helped dozens of evicted tenants, abused women and wrongly dismissed employees obtain the legal support that they could never otherwise have obtained. I am now a registered volunteer with FRU and provide free advice and representation to people who have been denied welfare benefits despite being eligible. Many are in very poor health conditions, do not speak English fluently, and have no means of support other than those benefits – having someone by their side to help them navigate the UK's legal system and speak before a tribunal makes a huge difference and substantially increases the chances that they will get what they are entitled to.
The kind messages of my first FRU client, whom I helped obtain Employment Support Allowance, are a testament that FRU's and BPBU's work can make a life changing difference:
"Dear Ginevra, my family and I cannot thank you enough for all your time and persistent hard work, and my happiness and mental repose after the satisfying judgement from the Tribunal, which was badly needed for my good health"
"Dear Ginevra, things are well with me and I am trying my best to come back to normal. My benefits have been restored, however little it is, it helps a lot"
There are so many more people like my client who are in need of help, and BPBU and FRU need resources to provide assistance as efficiently as possible. Support them and speed me on my way by making a donation!
https://uk.virginmoneygiving.com/fundraiser-display/showROFundraiserPage?userUrl=RunGinnyRun&pageUrl=1#